The Rise Of Facebook - How It's Changed Over The Years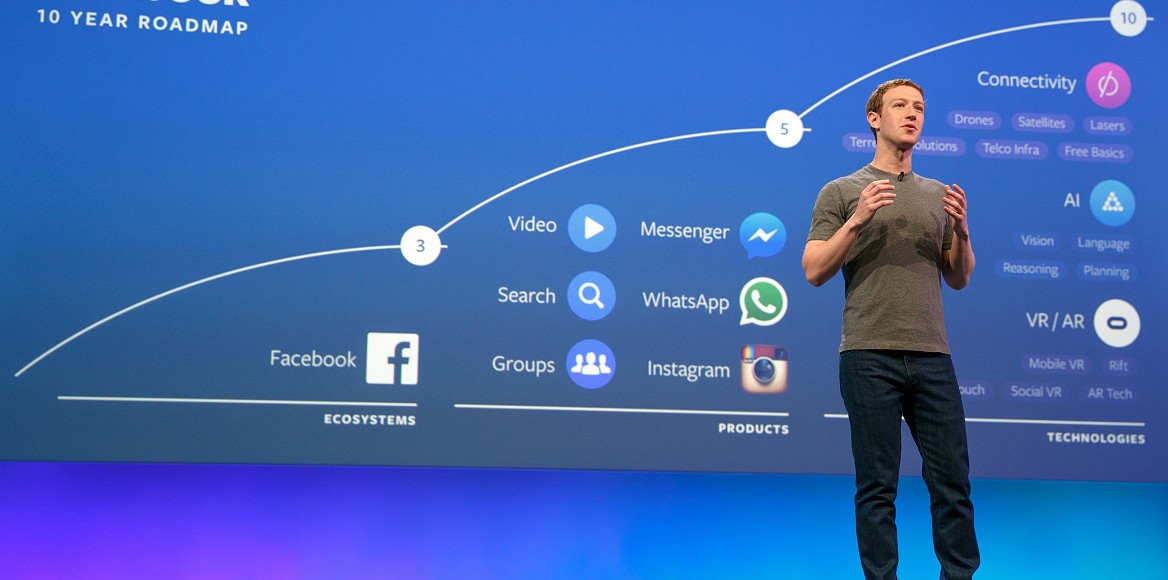 Social Media has rapidly grown in the last 20 years. In the early days, social media was considered to be a fad/craze. It wasn't. Platforms continued to grow and dramatically changed the way we all live our lives. With half the world connected to social media platforms in one way or another, there's no denying its power and popularity.
The largest social media platform in the world is Facebook. Despite most of us being very familiar with the platform, you may be wondering: How did Facebook become the global powerhouse we see today? Let's take a trip down memory lane, analysing how Facebook grew over the past 17 years and what could be in store for its future.
2003
THE BEGINNING
Mark Zuckerberg creates a site called 'Facemash' in his dorm room, hacking Harvard students database to create a 'Hot or Not' game where students could rate other students based on their looks.
This did not go down well. However, its popularity and potential got Zuckerberg thinking.
2004
EXPANDS ACROSS UNIVERSITIES
'The Facebook' is born, described by Zuckerberg as an online directory for Harvard students, a place to find friends and then the friends of their friends.
While originally only being accessible to Harvard students, the platform eventually became available to students in other American colleges such as Yale and Stanford.
Facebook creates 'The Wall', an area of a user's profile where friends can post messages to each other.
In just one year, Facebook crosses 1 Million active users.
2005
EXPANDS TO MORE USERS
Facebook expands to high school users.
Introduces a mini-feed in which a user's activities on the platform are posted via a live feed.
Mark Zuckerberg admits that advertising is the business model for Facebook, but currently unsure how.
Facebook's main priority is to grow the platform, building new features and focusing on the user experience.
2006
INTRODUCING THE NEWS FEED
Facebook becomes available to anyone over the age of 13, regardless of being in college/high school.
News Feed was introduced so you could see everything that your friends were up to in a live feed.
However, people hated the News Feed at the time. Many believed it was too similar to Twitter.
You can now also virtually (and awkwardly) poke people, remember that?
2008
FACEBOOK GOES WORLDWIDE
Facebook reaches a huge 100 million users.
Facebook goes international, available in languages other than English.
Zuckerberg once again hints at the idea of Facebook's generating revenue by allowing people to advertise on their platform.
2009
FIGHTING OFF THE COMPETITION
Facebook passes 200 million users.
Facebook introduces their famous 'Like' button.
When asked whether a new platform could surpass Facebook, Mark Zuckerberg admits that they're aware this will one day happen. His solution is to focus on constantly innovating and creating new applications, working towards a family of apps.
2010
ANOTHER BIG MILESTONE
Reaches over 500 million users.
'The Social Network' was released worldwide, a feature-length film following how Mark Zuckerberg created Facebook.
Zuckerberg discusses how Facebook's success is due to its focus on socialisation. Claiming that a social version of anything will always do better than something non-social.
2011
INTRODUCING THE FACEBOOK TIMELINE
'The Wall' is replaced by the Facebook 'Timeline', showing a user's every update on Facebook, displayed in chronological order.
However, people's embarrassing old photos resurfaced and users weren't too happy with the sudden change.
2012
ACQURIES INSTAGRAM
Realising its popularity and potential, Instagram reaches 29 million users and is acquired by Facebook for 1 billion dollars. Zuckerberg's argument for acquiring Instagram is because users think it's a great app and he wants to help it grow.
Come October, Facebook crosses 1 Billion monthly active users.
2013
TRIES TO ACQUIRE SNAPCHAT
Facebook now allows people to search for other users by details such as their location and job.
Later that year, Facebook also recognises the popularity of Snapchat and try buying it for 3 billion dollars. Snapchat surprisingly refuse.
2014
FOCUS ON NEWS
Facebook take a page out of Twitter's book and create their own trending topics feature. Paving their way for Facebook to become more of a platform for sharing news.
Most of all, Zuckerberg claims that he remains focused on improving Facebook's products and user experience instead of how they'll generate revenue.
Facebook acquire WhatsApp for 19 billion dollars, realising both the potential of instant messaging apps.
Mark Zuckerberg invests in Oculus, a virtual reality start-up that he believes is the future of technology.
2016
NEW VIDEO FEATURES
Facebook Live emerges, a service in which people can create and view live stream videos.
Facebook push for more video content on the platform, encouraging publications to create original video content for the platform.
Facebook Marketplace is introduced as a place for people to buy and sell within their local communities.
Oh, reactions are now a thing!
2017
INVESTING IN AUGMETED REALITY
Facebook reaches a staggering 2 BILLION monthly users!
Facebook reveal that they're moving towards Augmented Reality (AR). Instead of glasses, phone cameras could harness AR to help users connect with friends, family and brands.
2018
FOCUS ON FAMILY AND FRIENDS
WhatsApp reaches 1.5B monthly users, Instagram hits 1B.
Facebook change the News Feed feature to focus more on content from family and friends. This means people see posts more from their close friends and family. Majorly restricting reach for companies and charities.
Add a 'Facebook Watch' section, a place for people to browse video content. Investing a lot of money in creating original content for the platform.
As Facebook becomes a platform in which news is regularly shared, the dangers of misinformation start to arise. Certain groups can take advantage of Facebook's widespread reach to spread untrustworthy news. Facebook still to this day are working to tackle this issue.
2019-2021
LARGEST SOCIAL NETWORK PLATFORM IN THE WORLD
More than half of the world now uses social media, 346 million new users have come within the last 12 months.
With 2.7 billion monthly active users (at the time of writing), Facebook stands as the largest social network in the world.
The platform has embraced becoming a news platform for users all over the globe and continues to prioritise and push video content.
Businesses spend billions every year advertising on the platform, finding it can be one the most effective platforms to sell to consumers.
WILL ANY NEW SOCIAL MEDIA PLATFORMS SURPASS FACEBOOK?
Despite new platforms growing in popularity, it's unlikely that another platform will rise and knock Facebook off the top spot anytime soon.
Mark Zuckerberg once said: 'If we don't create things that will kill Facebook, someone else will'.
Facebook are always innovating and developing new applications to fend off the competition. Facebook will continue to adapt to satisfy users evolving needs, jumping on current trends in an attempt to stay relevant.
A most recent example was Instagram's response to TikTok. The video platform took off last year and currently boasts an impressive 800 million monthly active users!
To combat this, Instagram quickly launched a new 'Reels' feature which is extremely similar to TikTok's user-face. However, whether it will be enough to fend off the threat of TikTok is still uncertain.
WHAT TO EXPECT FROM FACEBOOK IN THE FUTURE:
More Video:
It's fair to say that video content will continue to be a priority for most social media platforms.
Facebook openly admit that video is the most engaged with the type of content on their platforms. It seems that Facebook's main focus is to invest in new and original video content while developing features to help users watch and stream.
Click here for some tips on what type of video content you should be sharing.
Social-Commerce:
Facebook is set to shake up the e-commerce landscape as they launch a new 'Shops' feature for both Facebook and Instagram.
This feature allows companies to advertise and sell products in-app with consumers able to browse and purchase on the platform, all without needing to exit the app.
The knock-on effect of 'Shops' is that businesses all over the globe will rely on including Facebook and Instagram advertising more than ever before.
This potentially could be competitive to e-commerce sites like Shopify, Amazon, and Etsy.
Virtual Reality:
Mark Zuckerberg is extremely interested in Virtual Reality (VR) and Augmented Reality (AR).
Mark Zuckerberg has invested a lot of time into Facebook Reality Labs, bringing together world-class engineers and developers to create software focused on Augmented and Virtual Reality.
His belief is that Virtual Reality is the way people in the future will connect, do business, learn, and even train people in roles such as healthcare.
A recent project, still in its beta phase is Facebook Horizon. Described as a social (no surprise there) virtual reality experience in which you can meet up with friends, play games, solve puzzles and much more.
Only Time Will Tell:
With Mark Zuckerberg investing in virtual reality, gaming and artificial intelligence, its anyone's guess as to what might be in store for Facebook and other social media platforms moving forward.
All we do know is that social media and its impact can be felt all over the globe, and Facebook is platform that is not going anywhere anytime soon.
For more content from Shooting Reels: Follow us on LinkedIn, Instagram, Twitter and Facebook!