5 Of The Most Viral Video Adverts Of All Time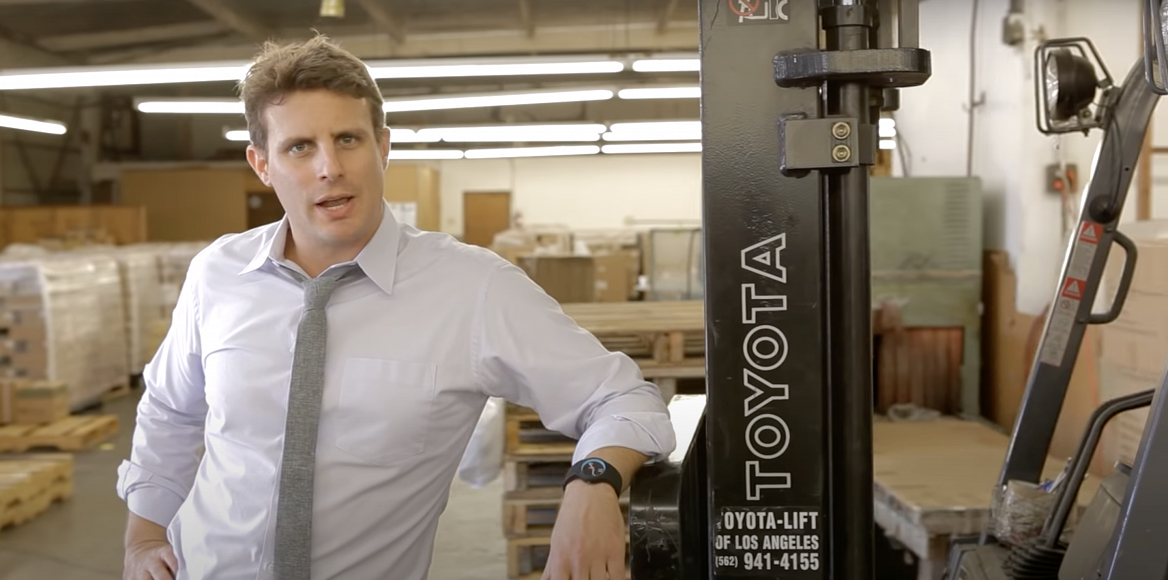 A viral video advertisement can have a huge impact on a business. For any advertisement to go viral, it needs to be eye-catching, memorable and worth sharing. To help give you inspiration for your next video ad, we've put together a list of 5 ads that became global sensations. Let's take a look!
1.) OLD SPICE 'THE MAN YOUR MAN COULD SMELL LIKE'
Believed to be one of the most popular viral campaigns, this quirky advertisement for Old Spice gained 5.6 million YouTube views on the first day alone. At the time, younger audiences were becoming desensitized to traditional forms of advertising. Old Spice decided to use humour while also breaking the fourth wall to really shake things up.
The key to its success was that Old Spice understood their target audience and created a new type of advert that they knew their audience would respond to.
Before this advertisement, Old Spice were struggling to face off against competitors such as Axe who were more effective at appealing to young people. This advertisement pushed the boundaries of traditional advertisements and by the end of 2010, Old Spice became the leading bodywash brand for US men with a 125% increase in sales.
2.) DOLLAR SHAVE CLUB - OUR BLADES ARE F***ING GREAT
This YouTube video from 2012 gave Dollar Shave Club a big boost in exposure online. Costing only 4,500 dollars to create and one day to film. Their video reached over 3 million views in just 3 days.
Dollar Shave Club understood the power of humour and storytelling when advertising and combined both to create a low budget video that had a huge impact. Dollar Shave Club used this ad to speak directly to their target audience, explaining what makes their brand different and so great.
The popularity of the video resulted in a big increase of sales for the business. To this day, Dollar Shave Club still continue to create humorous brand videos advertising their products.
3.) VOLKSWAGEN: 'THE FORCE'
Volkswagen used the popularity of the Star Wars franchise and storytelling to create this viral video advertisement. Originally posted on YouTube, a 30 second version of advert also appeared at the Super Bowl in 2012.
Uploading a Super Bowl ad online 4 days before the actual Super Bowl was an unusual choice, but the marketing team wanted to maximize the reach of the ad as much as possible. The video generated 17 million views before the Super Bowl even kicked off. Becoming the most shared Super Bowl ad AND the second most shared TV commercial.
Not only was this a great advertisement but VW's choice of strategy also changed the way large advertisers ran their advertisement campaigns in the future. Highlighting the importance of making the most out of your video advertisement and maximizing its reach by sharing it through variety of different channels.
4.) APPLE'S '1984' MACINTOSH
The advertisement that established Super Bowl ads as a thing. Apples '1984' advertisements first premiered at the Super Bowl in 1984 and still stands as one of the most famous adverts ever created. Apple even hired director Ridley Scott (Alien and Blade Runner) to bring this advert to life.
The commercial was met with doubt by the CEO of Apple and the board of directors vocally hated it. Steve Jobs however, he was a fan. Despite this, the advert was broadcast. Painting Apple and The Macintosh as the product to save society from 'conformity', focusing not on the features of the product but the brands values.
Apple's 1984 ad had such a big impact, It was so different to advertisements at the time. Apple took a risk by making something different and it paid off.
5.) DUMB WAYS TO DIE
This advertisement for Metro was designed to spread awareness and promote safety around trains. The overall impact of this advertisement was astonishing, quickly becoming a global sensation. Dumb Ways To Die was the most shared video in 2012. It reached the 10 chart in iTunes within 24 hours and passed 2.5 million views on YouTube in just 48 hours. The video now sits at 206 million views!
Metro combined this video advertisement with a much larger campaign including posters, billboards, a children's book and even a game that generated over 200 downloads. The result? Metro measured a 21% decrease in train station incidents.
The success of this advertisement was no doubt due to it's use of colourful animation and a catchy song to connect with audiences both young and old. Metro could have easily created a dark advert showing the harsh consequences of not being safe around trains, instead they created some cute cartoon characters to sing and dance about it. Think outside of the box!
WHAT MAKES A GOOD ADVERTISEMENT?:
Despite each advertisement being much different from one another, they actually have a lot in common. Each video understands their target audience, using emotions and storytelling to make an impact on the viewer. Above all, each advert is original. Taking risks and thinking outside the box. All of this and more can help your advertisements stand out against the competition and make a real impact.
If you're looking to create viral video advertisement for your brand, use the above videos as inspiration. If you're struggling to come up with an idea, or maybe you have one in mind and want to bring it to life, get in touch with us today!